【Exhibitions】
There are no exhibitions in progress.
【Information】
Opening Hours

11:00 am – 5:00 pm

Holidays

Every Monday (If Monday is a public holiday, the museum will be open on that day and closed the following day). It will also be closed at the end of the year and during the New Years public holidays, between exhibitions

※Regular holidays may be subject to change depending on a particular exhibition on show at that time

※For the latest information, please refer to our calendar.

Admission Fees

Admission Fees will differ from exhibition to exhibition.
(Our venue is sometimes rented out for public exhibitions. In such cases, the organizers will determine the admission fees, not NO-MA)

The following persons can enjoy our exhibits free of charge :

◎Persons with disabilities and their caregivers (1 caregiver per person with disabilities)
(Please kindly submit an identification booklet for the physically disabled, mentally disabled, or any other such disabled condition that provides proof of documentation)
◎Junior High School students and younger

※Please kindly note that advance tickets are not sold.

Group Admissions

For groups of 20 or more people, a group admissions charge will be assessed.

Access
【About NO-MA】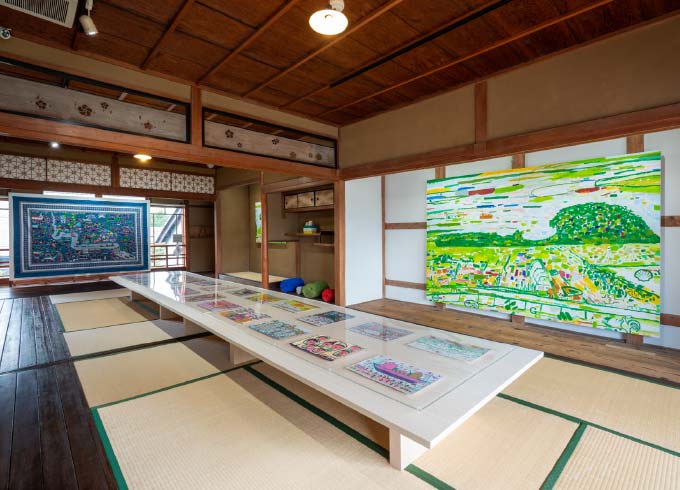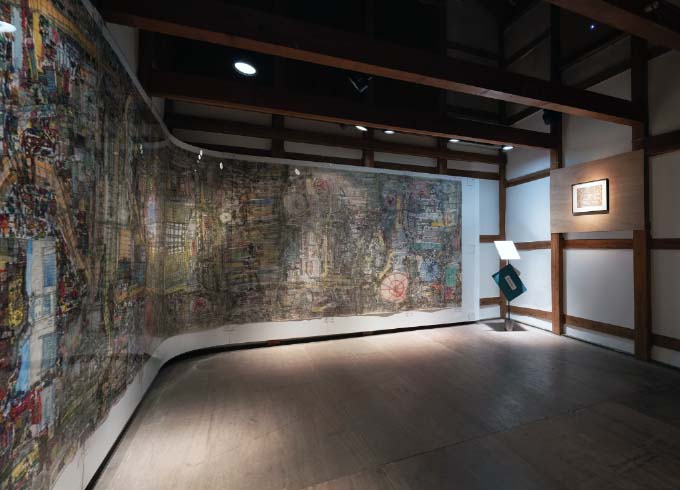 The Borderless Art Museum NO-MA was opened in June, 2004. It is located in an area of preserved historical buildings in Omi-Hachiman City, Shiga Prefecture. The venue is a converted dwelling from the early Showa period and utilizes a
traditional Japanese building and a surrounding traditional warehouse for exhibition purposes. It is operated by Social Welfare Organization Glow (formerly the Shiga-Prefectural Social Welfare Organization). It is a one of a kind museum found here in Japan.
Our strength lies in exhibiting works by persons with disabilities along with works of art created by able-bodied
persons. Through this we believe that visitors will feel the universality of human creativity in a very real way. By doing so, we boldly remove any notion of 'borders' between the able-bodied and disabled of the world.
The Birth of NO-MA
The welfare institutions of Shiga Prefecture have a long-standing history of promoting the creativity of persons with
disabilities. This is culminated in a Prefecture-wide debate on the increasing need for a place to exhibit these creations. An enterprise was established to provide a space to serve this need. A vacant 80 year-old traditional town house, in the preserved historical buildings area of Omi-Hachiman city, was chosen. Known as 'Nomatei', the example of a traditional Japanese architectural form, was to be transformed into this museum as we know and love it today. This is thanks to the input of an artistic community, social welfare workers, academics, and the local populace. The façade of 'Nomatei' was left intact while the ground floor was converted into the main exhibition space. The first floor was renovated into a library and exhibition space retaining its strong traditional Japanese characteristics. A space, blending new art with Japanese classical tradition, was born. The name, NO-MA, was taken from the family name of the owners of the building. The name "Noma" comes from the family name 'Nomatei'. The term 'borderless' is a nod to our strongly held beliefs in creating a space where culture and social welfare meet. It is where art and city-planning collide and where any differentiation between the able-bodied and disabled are meaningless.
Initially, NO-MA was established as the 'Borderless Art Gallery NO-MA' and operated by the Social Welfare Corporation,
and the Shiga-Prefectural Social Welfare Organization (Social Welfare Organization Glow). In the spring of 2007, however, we
were granted the status of being a 'museum' by the local government and have ever since been known as the 'Borderless
Art Museum NO-MA'.