Area : Grounds 396.669m² Floor Area 218.45m²
Construction : Wooden 2 storey building, equipped with heating, air conditioning and elevator
Spaces in use : Ground floor exhibition space, First floor Library and Japanese-style room exhibition space, traditional warehouse, patio and garden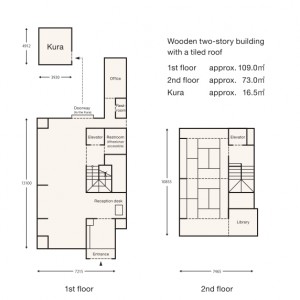 Rent Our Space
We offer our museum for rental during periods between exhibitions.
We encourage creators to use it as a space to display their work.
《Rental Information》
A set of 1 week, 6 days, from Tuesday through Sunday will be the basic unit for renting the space.
*This does not include installation/preparation and deinstallation/removal days for exhibitions.
Locker Spaces
Lockers are available at the entrance.
100 Yen for use (pay later)
If there are no lockers available, please feel free to approach our reception staff.
Disability Access
Our entire museum is made with disability access in mind. Please note, however, that it is a traditional house that has
been converted, so some parts may feel inconvenient. We ask for your kind understanding.
There is a disabled car parking space available in our car parking lot (space No.2)
We have one wheelchair
We have one disabled-user friendly toilet
Assistance dogs for the disabled are allowed entry, however pets are not
The building is equipped with an elevator(Specs – Height:2m, Width:0.9m, Depth:1.1m, Max Passengers:3persons or 200kg)
※If your wheelchair exceeds the dimensions of the elevator, please kindly let us know in advance.
We cannot supply push cars for babies. Please kindly bring your own if required
Bathrooms
There are 2 bathrooms located on the ground floor. One of which is a disabled-user friendly toilet, located below the staircase.
Library
A library is located on the first floor. Art magazines, exhibition catalogues, and academic writing materials may be found there. (Depending on the exhibition, the space may be converted temporarily to exhibition spaces)
The Museum Shop
Exhibition catalogues, post cards and other NO-MA goods may be purchased from our modest museum shop.